August News 2023
Welcome to our Shore Trust news, albeit a little later than planned. The days are getting noticeably lighter (yay) and daylight saving is just around the corner signalling we are on our way to spring. For Shore Trust it has been a busy and productive time of Lifestyle meetings with whanau, the new financial year, and a time to focus and knuckle down with essential building improvements and maintenance projects making our homes safer and more liveable.
We are excited to share that the long awaited new internal staircase at Belmont Terrace has now been completed! Replacing the 40 year old steep hazardous version, the new staircase has not only made the home safer and more accessible for the people we support, but also for all staff, families, and visitors alike. Fitted with lovely new carpet, a continuous balustrade, fresh paint and bright new light fittings, the new stairwell is a warm bright user-friendly space. Recent feedback from one of our whanau who's a frequent staircase user "I think the new staircase is very good. Joe did a very good job"
Ngā mihi nui to our people and team for your ongoing patience and willingness to adapt throughout all the building disruption. We are grateful to project manager Garry Lawrence and the dedicated building team for going the extra mile putting in long days to get the "job done" and shortening the project timeline to just 4 weeks! We celebrated (of course) with a "stair warming", cake and music last Friday. All are welcome to call in and check it out. See photos further down.
Another building improvement highlight is the shower unit upgrade at Nile Rd providing a safer more accessible space for everyone living in the home. We also replaced old, tired appliances with new at Nile Rd including a much larger fridge and dishwasher providing welcome and practical enhancements to the kitchen.
Lastly, I would like to celebrate one of our talented people Jill Horley and her beautiful artwork unveiling. It is thrilling to see how passionate Jill was throughout the process, exploring her creativity and growing in confidence through the joy of art. Congratulations Jill!
Also, thanks to Clare Nash, Volunteer Coordinator, IHC and Lynn (Artist) for supporting Jill and entering her art piece into the art awards! You can read more further down.
Ngā mihi nui, Francie Needham, Manager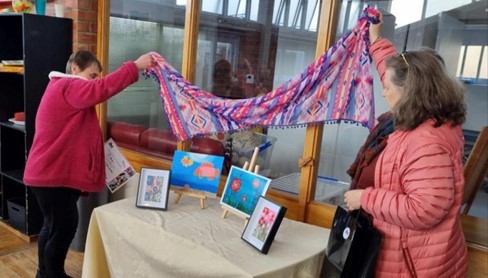 A proud and moving moment for Jill unveiling her stunning artwork to family and friends.
Jills Art Unveiling – 15 June 2023
Jill Horley was recently offered the opportunity to join IHC's Skill Based Programme where she was tutored one to one for 6 weeks. Jill set herself two goals, to paint a flower garden on canvas and to paint a fish in the sea. Lynn the art tutor spent time coaching Jill, encouraging her to explore new techniques to help achieve her goals which Jill did! Jill thoroughly enjoyed these sessions and was so proud when presented with a certificate of achievement and an unveiling of her beautiful artwork with family and friends who shared in this special day. Here's a selection of photos from Jill's fabulous celebration. Jill is so delighted with what she has accomplished with her artwork, including a submission in the IHC Art Awards.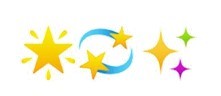 Jill with Max (brother), Karen (sister in law)
Lynn (Art tutor) and Jill.
Maria (team member) and Jill
Jill being awarded her certificate by Clare Nash, IHC
Nile Rd Improvements
In addition to the new kitchen appliances and the improved shower facility there were a further two projects now completed at Nile Road to enhance safety at our home.

New Pavers – Big shout out to John Myers for his work in creating a brilliant useable paved area outside for the bins and a larger tiled pathway leading to the clothesline for ease of use by everyone living in our home.

New Balustrade, back porch – Zara made a practical and excellent suggestion for a handrail to be installed at the back door at Nile Rd to help her and the other ladies safely navigate the stairs. This was quickly actioned, and thanks goes to Zara for her idea and builder Joe from Garry Lawrence Building for having this project done and dusted in a day!
Zara's safety project idea completed!
John Myers great handywork!
Staff, Training & Development Update
As part of our commitment to continuous service improvement, on Friday 18 August, the full team participated in a MAYBO training for positive and safer outcomes. Big thanks to Thomas Sullivan for his fantastic facilitation and making the day of learning so enjoyable. This training also involved an eLearning component and post training support and follow up. Thank you to Bev Myers, Jane Yu and all the Nile Rd families who assisted us in ensuring this day could go ahead as planned!
Nile Rd team have had an additional Community Support Worker join the existing team, which will enable the ladies to be even better supported to live their chosen lives. We are delighted to welcome Support Workers Belinda Sproule, Jahnna McHardy-Hunter and Winfreda (Winny) Mashuta who are currently doing orientation. I am pleased to report we now have a full staff contingent and great mix of support workers of experience and youth, all of whom are really invested in supporting the people living in our homes.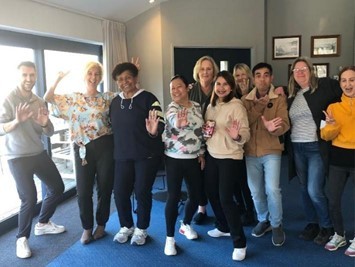 Belmont Terrace Improvements
Driveway maintenance – driveway was water blasted removing green algae and improving safety.
New stairwell Acknowledgement– I want to gratefully acknowledge all the people who went above and beyond to support us and contribute to the overall success of this complex stairwell project. A true collaboration! Our sincere thanks go to:
Dean Salter Architecture for the design finesse and expertise producing the best possible stairwell outcome and drawings.
Vivian Naylor, Barrier Free Advisor & Educator, CCS Disability Action for wise guidance and endorsement of the stairwell.
Garry Lawrence (Roofing & Building) for responsive, streamlined and cost effective project management and delivery, Joe Flynn for your superb craftsmanship, Abdul and team for the decorating finishing and Marc, Northshore Handman for all the moving, cleaning and organising.
Shore Trust Board for backing the project.
Our People, Jane and Team for their patience and support throughout!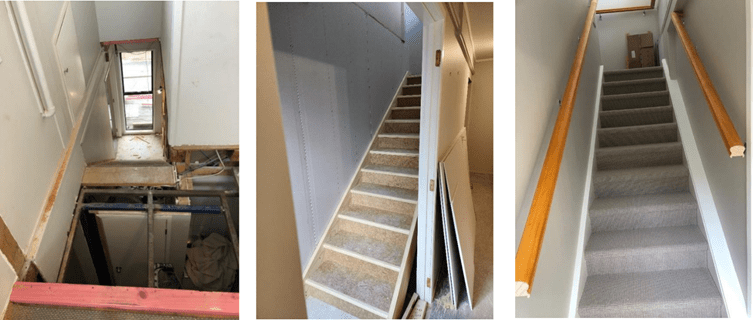 New steel installed to reinforce Staircase
Beautiful finished stairwell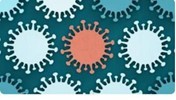 Covid-19 Update
As you will have heard the government has removed the remaining Covid -19 restrictions as at 15 August 2023 meaning there's no longer a requirement to self isolate if you test positive for Covid-19. There is still a recommendation to isolate for 5 days if you test positive. While Covid-19 case rates and hospitalisations have been trending downwards, we know that Covid-19 exists in the community. Shore Trust will continue take all precautions possible including maintaining infection control measures in place, self-isolation, use of Rapid Antigen tests and will do our utmost to prevent the spread of any infection including Covid-19 in our homes. We encourage you and will continue to support our team to be vigilant when out in the community and at home and follow good infection control to protect our people who have higher health needs.
More People Highlights
One of Jeffs goals this year was to go to Auckland airport by bus and train!
Supported by key worker Michael, they had a beautiful day to travel across the city. Mission accomplished and Jeff enjoyed lunch at the airport to top the day off!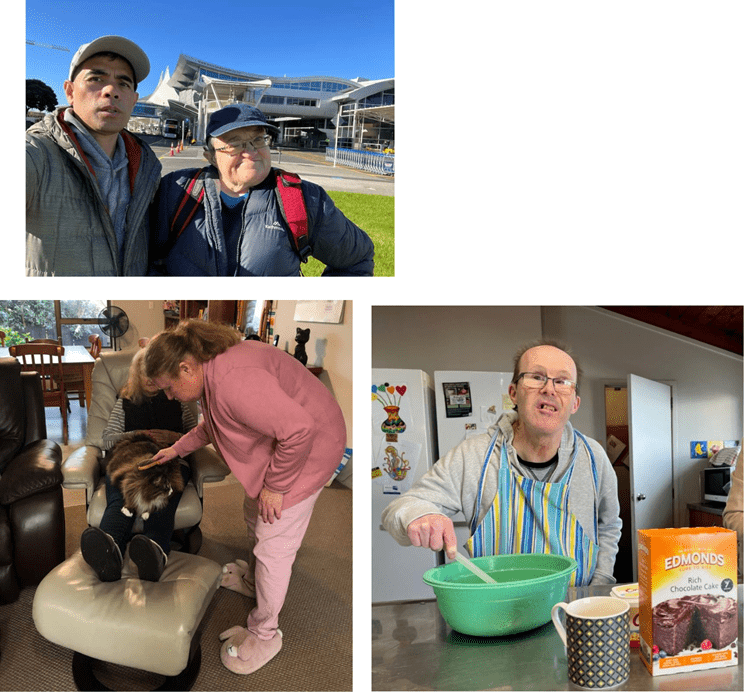 Grooming day for our gorgeous boy Ziggy by Angie!
Quentin whipping up a chocolate cake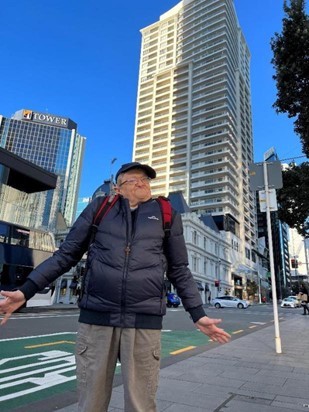 Purple Cyberpunk Night Party!
Highlights from an awesome night of dancing and fun! Thanks to the team Maria, Jess & Sarah for supporting everyone, and Kingswood for hosting such great events for everyone to enjoy! In team member Jess's lovely words… "My highlight of the month was definitely the Purple Cyberfunk Disco! I absolutely love going to our parties with all our people and always so impressed with how much they can dance! They out dance me every time and seeing them so happy warms my heart."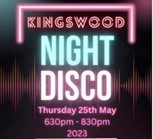 Magical Music Moments
We love to welcome new staff into our homes to meet our whanau. This event was really special with several of our people singing one of their favourite songs beautifully as part of the welcome.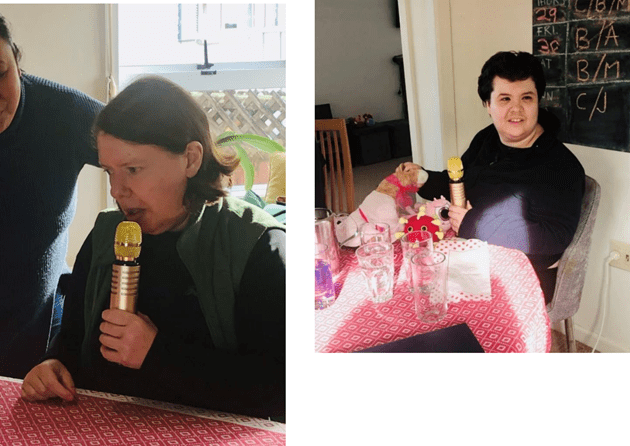 Natasha singing "Sometimes when we touch" by Dan Hill
Mariana singing "I would do anything for Love" by MeatLoaf. Yeah!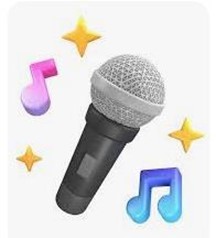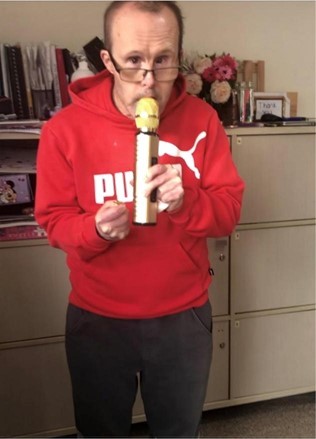 Quentin singing "Here comes the Sun" by the Beatles
A message from our Chairperson
The Shore Trust's mission is to provide quality homes where people can enjoy their lives to the full and be valued members in the community. Our goal is creating a safe & respectful environment where people can live as independently and freely as possible, have fun, and achieve their individual goals alongside friends and whānau. It is wonderful to see the people that live in our homes enjoy their work in the community and participating in activities in the community as they choose, as highlighted in this newsletter.
The board via the annual budget planning process has been able to allocate more money to increase staff levels, to enable all our team to participated in a MAYBO training for positive and safer environment, soon to purchase a new vehicle for Nile Road, and to improve our homes. The outcome that the Shore Trust strive for is to provide the very best service for the people that live our homes.
On a person note, I have changed jobs. I finished up at Auckland Transport after a fantastic 8 years in July. What a journey! I joined Fonterra in a similar delivery role, and so far, my new role is going well. After 20 plus years working in public transport organisations, it is a massive learning curve for me at Fonterra.
Please watch out for the invite to our AGM, which will be held in November.
Very best wishes,
Chris Creighton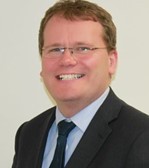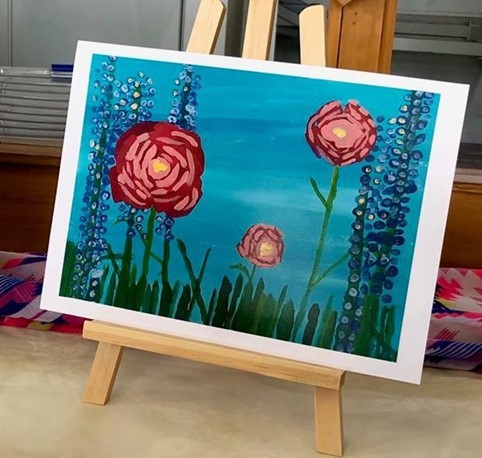 Jills beautiful artwork submission