April News 2023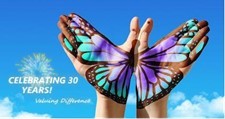 Welcome to our April Newsletter. Happy autumn everyone, I hope everyone had a lovely Easter weekend and enjoyed some yummy treats with time to relax. Let's hope the more settled weather continues and will especially help those with recovery efforts from the recent severe weather events. Our thoughts and aroha go out to those affected including our own team member Ben who has since relocated to Christchurch.
We all need something to look forward to and for our whānau it was attending the fabulous all that sparkles IHC Ball. And what a night it was! This is the first annual ball to be held since the start of the pandemic in 2019 so very much anticipated by all. Everyone dressed to the nines in keeping with the glamorous Hollywood theme. Big shout out to the IHC team for hosting such a brilliant night along with live music that was enjoyed by hundreds of happy party goers (see photos further down).
Another recent highlight was our peoples holiday adventure 24-27 March. We ventured out to a new destination Koromatua Homestead, located in picturesque semi-rural Waikato. From all accounts the homestead is a beautiful place only just out of town, but handy to everything and gives you that feeling like your truly on holiday. Especially the spa pool! Huge thanks to the team for all their wonderful efforts and mahi making this possible for our whānau and such a great success. You can see more highlights from the holiday further down.
2023 is also our year for amazing new volunteers joining Shore Trust. We are so fortunate to have three new volunteers who are busy forming meaningful one to one connections with our whānau, including fun social outings and shared experiences. We are grateful to our volunteers for the energy they bring, and their willingness and commitment to spend time and make a new friend. We recently received some lovely feedback from one of our wonderful volunteers Jill..
"I am so pleased to have recently had the opportunity to meet Angie. I've enjoyed the time we have spent together so far and I am looking forward to us getting to know each other better. Hope she is too!"
Ngā mihi nui, Francie Needham, Manager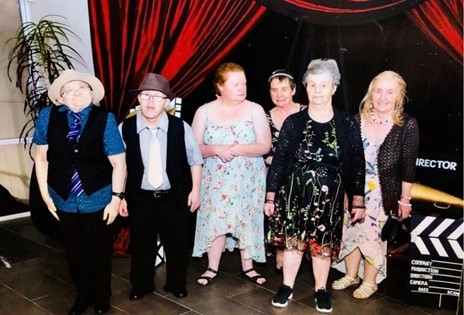 All glammed and ready for a fun evening at the IHC Ball! Thank you to Jess & Gayna for the wonderful styling.
Welcome Jane Yu
We are delighted that Jane has taken up the Finance & Office Manager role and will deputise the Managers role. Jane is having a comprehensive induction and has already proven to have excellent operational management skills. Jane has enjoyed meeting all the people we support, and is looking forward to also meeting our families.
In Janes words..
"I have worked in administrative and financial roles for over 10 years. I love the family environment at Shore Trust and enjoy supporting the manager and the whole team to make our resident enjoy better lives".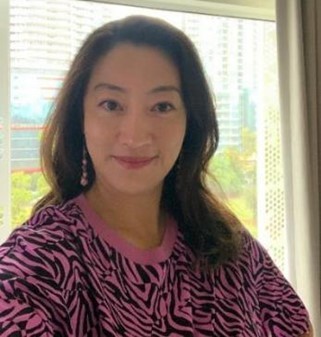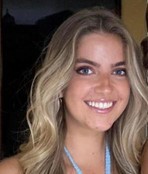 Welcome Niamh Chalmers – Nile Rd
A qualified community support worker Niamh (pronounced Neve) has recently completed her tertiary studies majoring in psychology in Dunedin and relocated back to Auckland joining the team mid-March. Niamh is passionate about best possible outcomes for people and has already formed great rapport with the Nile Rd ladies, enjoying building one to one connections.
Volunteer Buddy Profile: Jill Burroughs
We have been fortunate to welcome Jill to our team of wonderful volunteers. Angie looks forward to seeing Jill regularly and lights up when she arrives to the house to pick her up!
Jill has considerable experience supporting people with intellectual disabilities having previously worked within the disability sector running a residential service. Jill recently shared with us..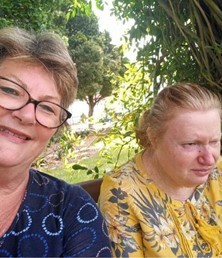 "I was raised with an Auntie with an intellectual disability. Without realising it at the time, she had a huge influence on my life. She was a wonderful person.
I studied at Mangere Hospital and Training School becoming a Psychopaedic Nurse and worked at the Hospital for some years.
When Mangere closed I began working for a new residential service provider, remaining there until I retired in 2021. Supporting people to move from Mangere Hospital to their own homes and seeing the many positive changes was very rewarding. Happily, I am still in contact with many of them.
I am married to Wayne and we have three adult children and a two year old Labrador, Dash. We enjoy spending time with our two grandsons and we are eagerly anticipating the imminent arrival of a granddaughter.
Twice a week I volunteer as a sidewalker at Riding for the Disabled, Totara Park. Not being a horse person, I am learning a lot. It is a lot of fun.
I am so pleased to have recently had the opportunity to meet Angie. I've enjoyed the time we have spent together so far and I am looking forward to us getting to know each other better. Hope she is too!
Thank you to everyone in the house, it has been very easy, and I have felt very welcome." Jill Burroughs, Volunteer, Shore Trust

New Minister for Disabilities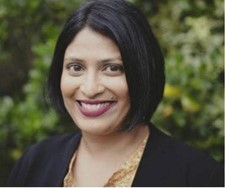 The Hon Priyanca Radhakrishnan has been named as the new Minister for Disability Issues in January 2023.
She says her vision is for a society that is inclusive. "What I've wanted to do is to listen, to meet disabled people, organisations that support them and really get my head around the various issues because there are challenges as well."
"I am under no illusions that requires quite a lot of change and a lot of work that will go into that… But I do believe that consistently advocating and making that change will lead to that inclusive society," she says. "Ultimately, what we need is to make changes to the system we have so that it benefits people from diverse communities, and that includes our disability community as well."
Nile Rd Deck & Drainage Update
As the deck has not moved at all since repairs were undertaken to fix broken leaky stormwater pipe under the house, the deck is no longer posing a health and safety concern and the project has been placed on hold for now. This will be reviewed again next year, and the deck monitored in the interim.
A further update is the recent severe flooding events have brought to light a new drainage/flooding issue in the ground at the end of the deck. This is priority work and repairs are due to start soon to ensure adequate drainage is in place to prevent further flooding in extreme weather events. We will also be repairing some rotten weather boards above the deck as part of our ongoing maintenance plan.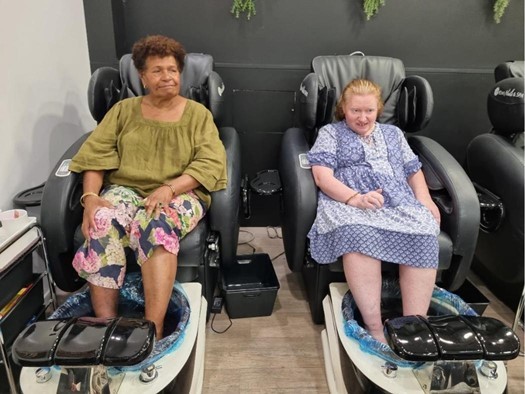 Pre-ball pedicure for the ladies

People Highlights – Pre-Ball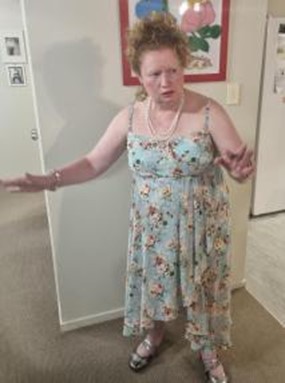 Angie modelling her ball ensemble. Stunning!
Tali explained "Angie had a hair and nail appointment in the afternoon, in readiness for the glamourous IHC Ball.
On the Thursday before lovely Angie did a fashion show at home to show everybody her complete attire for the upcoming Ball. She was dancing, giggling and so proud. Angie looked stunning in her dress, necklace and shoes. Angie and I bought that beautiful dress from Pagani, which was altered because it was quite long."
Meanwhile Jess, helped by Gayna, were busy back at the house working their magic makeovers with Jeffrey, Quent, Jessica Jill and Teresa.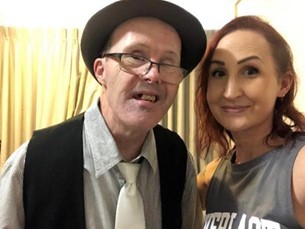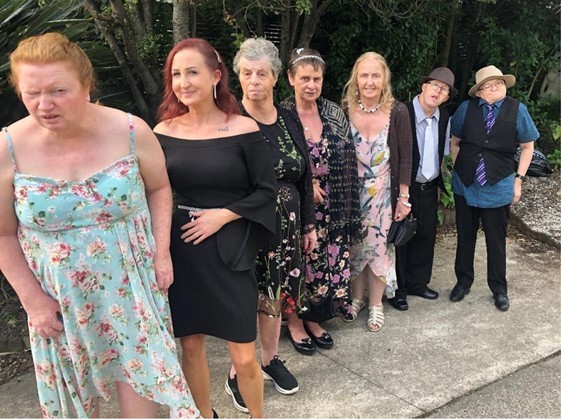 Fabulous people ready to party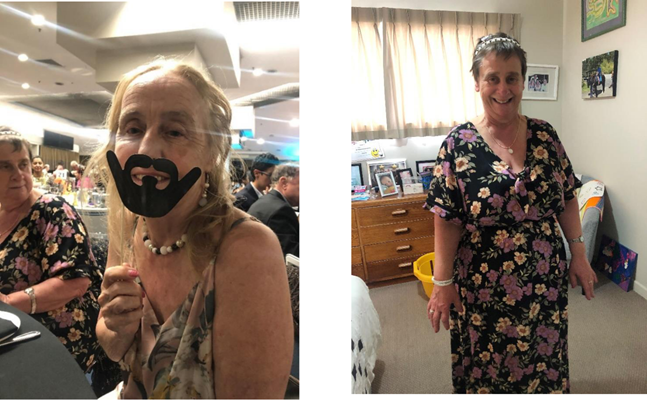 Having a wonderful time at the ball!
Happy
Birthday Jessica!!

Jessica celebrated her 75th birthday recently with flowers, cake, friends and a wonderful dinner with brother John, Bev and family!

Birthday cake and celebrating with friends and family!
Movie in the Park
Natasha, supported by Carmela, enjoyed the one time screening of Top Gun: Maverick at Rosedale Park outdoor cinema. What a cracker of a movie Natasha chose. Academy Award nominated, it was a high octane blast on the big outdoor screen!

Happy Birthday Zara!
Zara had a fun birthday celebration with friends. Zara has also been enjoying crafting with diamond art. Isn't her flamingo piece incredible. Way to go Zara!

Zaras beautiful flamingo diamond artwork
Facepainting at the mall – Purrfect
Holiday March 2023 – Koromatua Homestead, Waikato
Maria's Holiday Highlights
Friday yeay! Look out Hamilton here come Shore trust residents on holiday! Fish and chips all together @ Huntly on way.
So many highlights. Saturday crumpets and coffee breakfast and visited the zoo followed by Ariane's birthday party and cake. Exciting to have Gayna and Lucas join us for that and dinner and playing netball which Ariane loved.
Sunday Hamilton gardens. Wow! Stunning and free entry.
Jeff, Jill, Teresa and Zara hanging out in spa pool Saturday and Sunday evenings. Pool table and movies.
Maccas @ Mercer for all on way home Monday woop woop!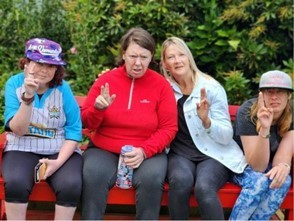 Carmela's Holiday Highlights in pictures
Sarah's Holiday Highlights
The resident holiday to Hamilton was wonderful. We all had fun, and the accommodation was just right for all with lots to do to keep us all entertained.
Angela said that the Zoo was good. She said she liked the moneys and the Zebras. Angela said the birds ate some fruit.
Jessica loved her room and said that she liked having a room with Angela and a bathroom just for them. She said the flowers are pretty at the gardens and the dancers looked pretty too and it was nice music. But it was sad that Sarah lost the keys. Jessica also liked the big house we stayed in and the TV.
Jeff told us all that he liked the Zoo and all the animals. He said that his favourite animal was the small cat [Fishing cat] and the monkeys swinging on the rope. Jeff said he like his big bed and the spa. He said we had Arianne's birthday party and ice cream cake. Jeff told us all he liked the big gardening tools at the gardens and having an Ice cream.
Teresa and Jill both like the spa pool and said the food was good. Jill said her bed was comfortable and it was a nice room. Jill said she liked all the things we did and would like to do it again some time. Teresa and Jill said that it was a very nice place to stay with all the chickens and the pigs. Teresa enjoyed her holiday and said it was good to see things she had not seen before. She said the zoo was lovely and the gardens very nice.
It seems that all our people had a good time and would do it all again. I think staff would too.
Jess's holiday highlight photos
A message from our Chairperson
On behalf of the Shore Trust board, I want to say how brilliant it is to see our people enjoying so much activity in the community. We are also really pleased to hear that everyone had a great holiday and enjoyed the ball.
I would also like to acknowledge and thank the many volunteers who support us in a variety of ways.
Thanks
Chris Creighton