March News 2022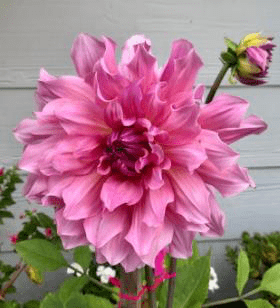 Welcome to 2022! I hope this finds you well and that you still feel hopeful and positive during a time that is challenging us to find the smallest things to be grateful for. It does seem a little like deja vu, with the whole country in the Red zone phase 3 of the traffic light system and finding ourselves in the midst of thousands of daily infections thanks to Omicron.
That said we are not letting that spoil all of our fun here at Shore Trust as we continue to balance the needs of our people to connect with their families and whānau and keeping the virus out of houses.
A highlight this year has undoubtedly been our February summer holiday up north in beautiful Tapora on the Kaipara harbour; the first holiday together in 3 years. You can see a selection of photos of the happy times from the holiday featured further down the newsletter.
In other wonderful news is the very special engagement of Zara and Daniel. Read further on how their love story unfolded as told by Zara's Mum Karen. A huge congratulations to them both celebrating this happy couple milestone in their lives.
Ngā mihi nui, Francie Needham, Manager.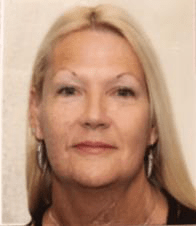 We warmly welcome Maria Hooper, a vibrant addition to the team. Bringing fantastic sector experience and a warm and empathetic approach, Maria has quickly won the hearts and rapport with our people, and subsequently has been oriented to both houses. We are delighted she has joined the Shore Trust whānau 🙂
The team residents and families came together on 1February to wish Kathy Huston a fond farewell after nearly 10 years with the Trust. Kathy has since moved to Blenheim and is very much missed.

Holiday in picturesque Tapora with views out to Kaipara Harbour – February 2022
Health & Safety – Shore Trust Covid 19/Omicron Response Plan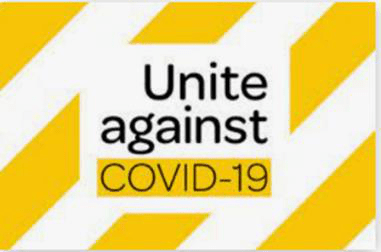 The board have approved the latest Covid 19 Contingency Response Plan written as a response to Omicron variant rapid spreading into the community. With the current surge in infections, the plan covers prevention and testing strategies, caring for potential positive cases in the houses, and staffing contingency planning including the use of external staffing bureaus to cover any gaps in care.
We have taken a cautious approach to our response as we are mindful that some of our residents remain potentially vulnerable despite having been triple vaccinated. We have also been made aware that external activity providers New Dawn & Kingswood have both had positive cases among their staff who were working days our people would have usually attended the programmes. The safety measures we have put in place underpin our risk minimisation approach – screening visitors, pausing community provider activities (regularly reviewed), and use of Rapid antigen tests for our people and team.
Furthermore our policy is in line with Ministry of Health guidance including weekly live updates provided to the residential disability sector particularly around managing exposure events. Some good news is that the MOH has recently advised that Disability support providers can now access Rapid Antigen Testing (RAT) for their critical workers supplied for free through the OneLink portal. Prior to this we have had to purchase our own supplies. The plan has also gone out to staff and families. If anyone wants a copy you can email the manager@shoretrust.org.nz
Shore Trust Website is now Live!
Check out our brand new website here: https://shoretrust.org.nz/
Our fresh new site features all the latest information and news as well as providing new opportunities for staff and volunteer involvement, and an accessible platform for donations and bequests. Thank you to Ultimate Web Designs for their wonderful assistance! Feedback has been positive, and we are feeling proud to have a vibrant online space that shares our story, people, imagery, mission and values, and community identity.
Zara & Daniel are engaged!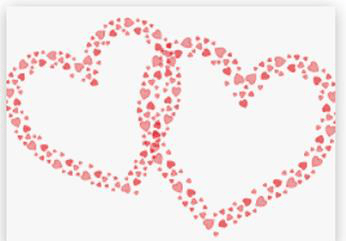 It's not often (if ever), that there's exciting news of an engagement at Shore Trust and we are thrilled! Congratulations to the happy couple Zara and Daniel. Karen Murray, Zara's Mum kindly shared their wonderful love story..
"Zara and Daniel met at MSL training at the beginning of 2020 where they both took part in a one year life skills programme.
They instantly hit it off and their friendship grew throughout the year. They both graduated the programme at the end of 2020 and have maintained their relationship ever since. They've been on lots of dates and although COVID has made it tricky they've persevered and kept in touch with daily video calls. Daniel often visits Zara's house in Nile Road and along with their chauffeurs – (both sets of parents) they've managed to have some really fun times together. They love going to shows together, out to dinner and to the movies. They share a love of animals, music, movies, and Lotto Scratchies!!
On 12 February Daniel's Mum and step-dad bought him up to Zara's parents' house in Gulf Harbour and he officially proposed after asking permission from Zara's parents first, which was very brave 🙂
Last Saturday on 12 March Daniel and Zara had their engagement party at Daniel's house and they celebrated their engagement surrounded by some special friends and family.
It was lovely to see so many people gathered together who genuinely care about and love this young couple. Zara and Daniel love each other very much. Daniel is very caring and protective of Zara and they are an awesome couple with such an open, honest and carefree view of the world. They are now working towards spending the rest of their lives together."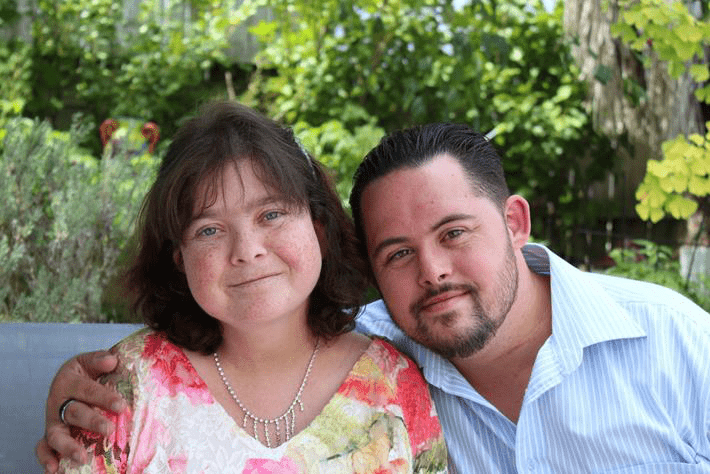 Zara & Daniel Engagement – March 2022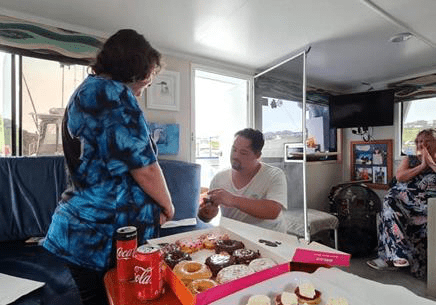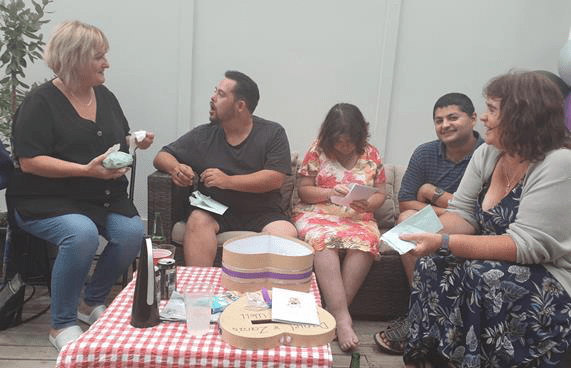 Both Mums with happy couple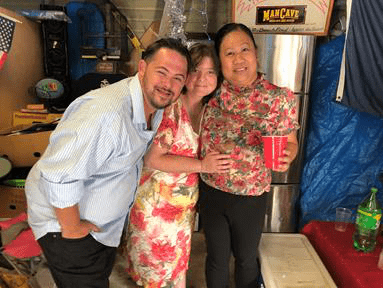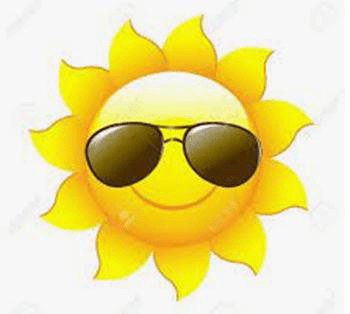 Holiday at Courtyard House, Tapora 17 – 22 February
Much planning and preparation went in by the team leading up to the big day to ensure we every detail covered off for a fantastic holiday! The weather was glorious throughout our stay, and Courtyard House provided a comfortable and spacious base for the 5 day adventure enjoyed by both our whānau and team.
Excursions included Kaipara Coast Plant Centre & Sculpture gardens, fun at Sheep World and feeding an array of farm animals, beach visits and picnics and lots of fun singalongs and games of Bingo at the house. I visited on the Sunday, and it was heart-warming to see everyone looking so relaxed, happy and enjoying the friendship from bringing the houses together. Huge thanks to the team for embracing the holiday spirit and ensuring a fun itinerary planned for each day was enjoyed by everyone. Tali and the team's beautiful meals were also a highlight. Thanks to Carmela for the lovely holiday photos!
Tapora Holiday Fun – February 2022
Happy Birthday Wishes to Zara!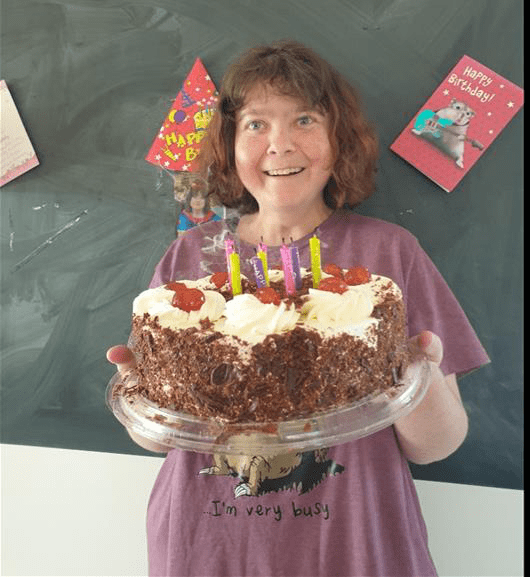 It's definitely Zara's time to shine! Carmela, Zara's key worker, described her special
January birthday perfectly:
"Today is a lovely day for Zara!
She started her day by having an early brunch at Mac Donald's followed by a joyful celebration at Nile Road House. She had several guests— Francie, Geniia, Beverly, Andrea and Maria (our new staff). Natasha, Ariane, Mariana, Raman and I were also present. A big thanks for Francie for bringing a big chocolate with cherries on top cake for Zara. Zara did enjoy blowing her birthday candles. Zara on the other hand, bought some apple pies from Mac Donald's.
Everyone enjoyed the morning tea. The cake was delicious, the apple pies were juicy and filling.
I will be preparing Zara's favourites for dinner— spaghetti bolognese and sausage rolls. All of our ladies will be putting their party hats this evening. "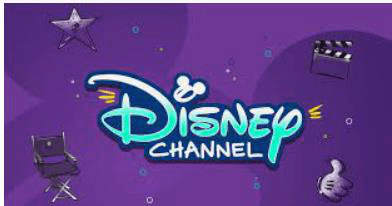 Nile Rd
Disney Channel subscription!
Westinghouse Fan bake oven
Belmont Terrace
Refurbished HP laptop providing an additional
laptop for the team's use.
New Podiatry Service
We have contracted the professional team at Hapi HealthCare. Our fully vaccinated Podiatrist Trish is calling in 6 weekly to care for our peoples feet and podiatry needs.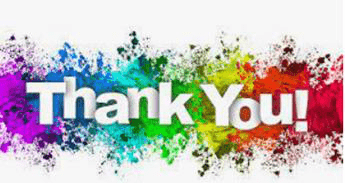 Big thank you to Peter Hoskin, Manager, Community Engagement Taikura Trust for personally delivering a supply of RATs & Medical masks for the crew at both houses. We are so grateful!
Our heartfelt appreciation goes out to John Myers our very own good sort who has worked through a long list of maintenance and repairs requests at both houses.