May News 2021
Greetings!
Farewell & Welcome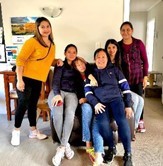 In May we farewelled Angel Renjith as she heads offshore to sunny Perth in Australia with her family. There were tributes made and tears shed as we all wished her well for an exciting future. Angel has made a significant contribution and difference during her two years with the Trust for which we are extremely grateful. We also welcomed new manager Francie Needham who joined us on 6 April and already 6 weeks into her new role. Having worked in the disability sector for 10 years, Francie is feeling welcomed into the space by all. She is enjoying getting to know residents, staff and families and of course the buzz of activity and delicious cooking at Belmont Terrace and Nile Rd!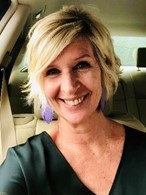 What's happening!
Nile Rd Garden's Blooming
The Nile Rd whanau have been busy planting winter vegetables and herbs in the lovely new planter boxes kindly gifted by one of our families. The assorted produce is already growing fast, and it will not be long until harvesting the fresh produce for our delicious home cooked meals.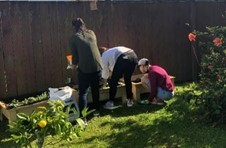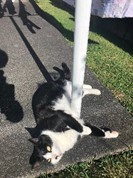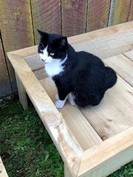 Meet Miss Cleo
Cleo the cat resides at Nile Rd and charms her way into the hearts of everyone she meets. As shown in the pic she loves to laze around the clothesline pole and give everyone a warm fluffy welcome. She also loves helping and hopping into to new planter boxes (just when they are about to be filled with soil!) and generally looking cute!
Lifestyle Plans 2021-2022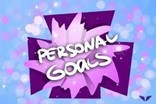 After an intermittent year of lockdowns, we are pleased to report the Lifestyle Plan meetings are back in full swing at both houses! These holistic plans are such an integral part of our residents' wellbeing and achieving their goals and aspirations for the year ahead. The meetings also provide a great opportunity to discuss all aspects of their health and wellbeing with families/whanau and celebrate successes.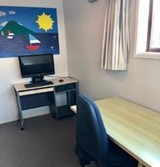 Study room for staff
A dedicated space has been created for our staff who are studying and /or enrolled with Careerforce as part of their professional development. An all in one computer, keyboard and two workstations located in a quiet office opposite the main upstairs office at Belmont Terrace now open to all staff to pursue their studies.
Acknowledging Our Community Partners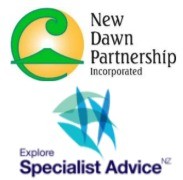 Shore Trust is fortunate to have vibrant community partners including New Dawn and Kingswood who provide excellent activities for our residents such as music, dance, singing, health, fitness, creative arts, and crafts and much more.
We have also been working with wonderful Maria McHugh from Explore Behavioural Specialists, Dr Gail Fleming & Nurse Lynn Johnson from Dual Disability, who have provided fantastic expertise, resources and helped achieved positive outcomes with our residents and team.
Covid 19 Vaccination Rollout
Shore Trust as a priority Group 2 frontline provider has now registered with Ministry of Health and Auckland DHB for the Covid 19 vaccine programme for our residents and staff. We are waiting for the DHB to get back to us with a date.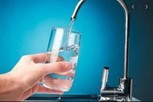 We have a new comfy lounge suite at Nile Rd for our people to enjoy.
New water filters – installed in both houses.
A broadband Wi-Fi extender has been installed at Belmont Terrace for better internet reach for everyone.

Website underway – Shore Trust has commissioned a new website which is in motion. The website will serve to will tell our story, provide an online landing page, and information about our services in the community. Watch this space!
New carpet – we are currently measuring up for a carpet refresh at Belmont Terrace to replace the tired worn carpet.
A BIG thanks to each and every one of our amazing team for the wonderful job that you do supporting our residents to live great lives!
A message from our Chairperson
Shore Trust is in a stronger than ever position going into the future. We have strong leadership and a stable group of CSWs. All involved with the Trust believe in the right to a quality life for the people our homes. Thanks to everyone for your support of our work at the Shore Trust. Chris Creighton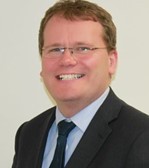 Thank you for reading and for your support.